Recently, Polymer Compounders Limited underwent their ISO: 9001 2008 renewal and ISO: 9001: 2015 transition update audit. The audit was carried out over three consecutive days at Polymer Compounders Limited (PCL) by a Lloyd's Register Quality Assurance representative (LRQA).
The audit touched on all aspects of our business at PCL. The LRQA representative began the audit in 'Sales Order Process' followed by 'Quality Control/QA', concluding with 'Planning' and 'scheduling' on day three.
The LRQA scrutinised everything with a fine toothcomb during the audit to ensure that PCL are conforming to the correct rules and regulations of their current 9001 2008 accreditation.
Technical Manager, Stephen Blair commented: –
"ISO: 9001 2008 has been the foundation or 'seed' for all of our automotive work to grow. Tier 1's across the north east of England have benefited from our exceptional ISO accredited quality procedures, leading them to gain confidence in us as a company. ISO: 9001 2008 has taught us a lot as a company and has created an exceptional level of discipline within our processes and procedures as an organisation."
Beyond their initial ISO: 9001 2008 re-assessment, PCL were further assessed to see if they had evolved beyond the ISO: 9001 2008 accreditation as an organisation. More specifically the LRQA representative wanted to establish if PCL had been actively updating and creating fresh processes to bring PCL on in order to identify us as an ISO: 9001 2015 organisation. What this has meant to us at PCL is that we recognise the need to establish additional internally monitored KPI's and asses all new ventures with the new 'Risk and Opportunity' framework.
'The Lloyd's Register Quality Assurance (LRQA) ISO: 9001 accredited system enables any businesses, across the world to work together in a more seamless way'.
At the end of the three day audit we were presented with our ISO: 9001 2015 standard by the LRQA representative. This came much to the relief of everyone at PCL.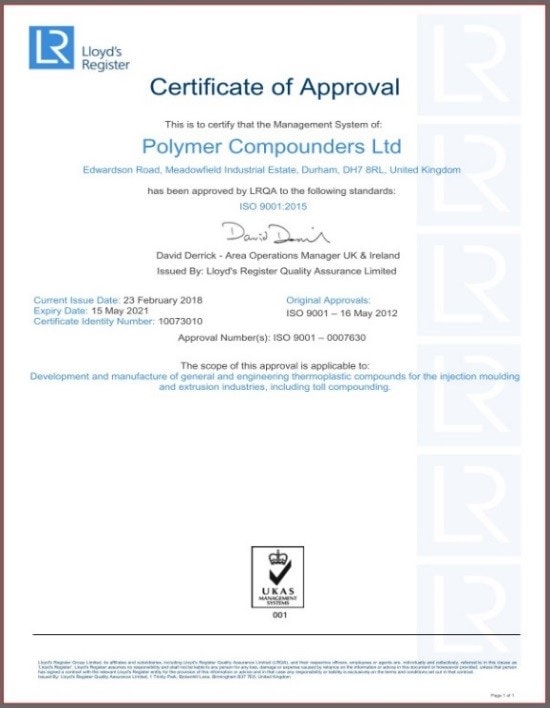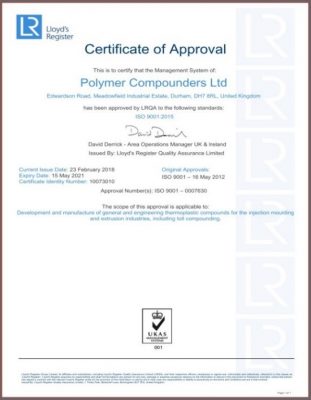 The new ISO: 9001 2015 accreditation has come into its own already at PCL as the company has just had interest from another arm of the automotive sector in Mexico! This news is propelling Polymer Compounders Limited forward onto a new and exciting era!
Managing Director, Grahame Houlder had this to say: –
"ISO: 9001 2015 will pave the way to new and enriching opportunities for Polymer Compounders Limited in the upcoming years!! I would like to thank everyone for their committed efforts in the run up to achieving this accreditation".
Featured photo credit: Photo by rawpixel on Unsplash