Polymer Compounders Ltd (PCL) recently exhibited at EMCON – Manufacturing show (Formally known as Durham Oktoberfest).  EMCON (2019) was held at the Xcel Centre in Newton Aycliffe.
The exhibition went well for PCL, we had a great time during the event networking with other like-minded manufacturing businesses. Attendees of this year's event included the major Japanese OEM 'Nikon' who are one of the world's leader's in digital photography and camera manufacturing.
The booths at the event, being that 'little bit closer' together this year, promoted everyone getting to know each other very quickly.  This helped break the ice between businesses enabling PCL's Northern Area Sales Manager – Richard Clay and Midlands area Technical Sales Engineer – Callum Doolan to exchange plenty of business cards.
It was apparent to PCL on the day at EMCON, that a large amount of manufacturing business now exists locally, specifically to supply some of the world's biggest brands that have made their home in the North East. Which is in itself a very exciting prospect.
Pictured below is PCL's Northern Area Sales Manager – Richard Clay and Midlands area Technical Sales Engineer – Callum Doolan interacting with some visitors of the event.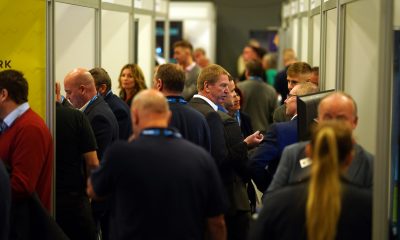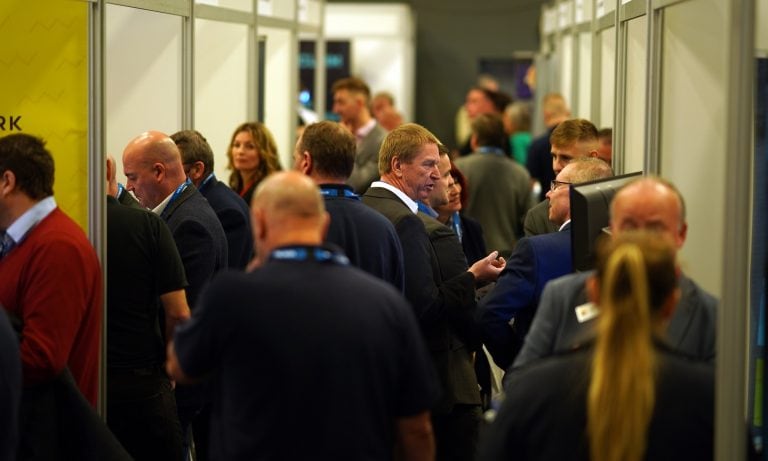 Polymer Compounders Limited (PCL) would once again like to thank all that came to visit them at the stand! Every visitor to PCL's stand had the opportunity to participate and enter a prize draw, to win a bottle of Gin (Bombay Sapphire) – PCL like to share the good things in life!
And the winner is….
Andy Dunn (General Manager-Engineering) at Nifco!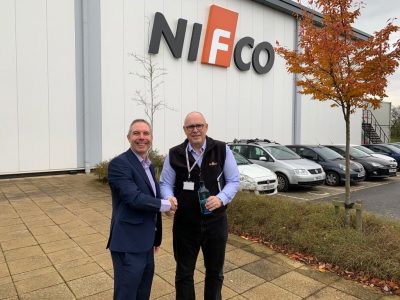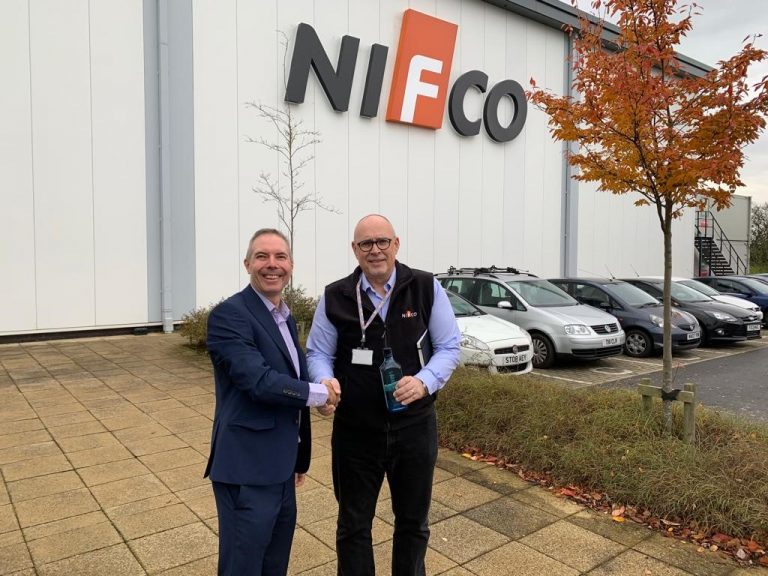 Nifco are a significant supplier for major car manufacturer Nissan who have their UK manufacturing plant in Sunderland. Being a Tier 1 supplier Nifco play a pivotal role in manufacturing and supplying various polymer based materials of a high specification, many of which PCL supply.
More information on our grades can be found at the link provided below. T4060 is a high temperature resistant ABS polymer that can withstand the intense heat required for automotive paint work.
Click here for more information.                  
PCL believe that EMCON was a big success for us in 2019 and we will certainly be attending next year!